What is the R

UIZ

R

EPORT

?
It's 10-slides with everything you need to know about your local residential real estate market.

Set expectations, generate leads, and close deals.
"The Ruiz Report is a great tool to help you
become the local Economist Of Choice."
Dave Jenks (RIP)
Co-author of The Millionaire Real Estate Agent
Educate & Lead Generate with the Ruiz Report System
You've always been told that you should become the "Local Economist Of Choice," this is how you do it. The Ruiz Report System is simple:
We train you on your local markets: our training video series will transform you into the Local Economist Of Choice.
We quiz you on the markets: our monthly quizzes help you stay sharp while teaching you to navigate your Ruiz Report.
We help you promote your business: the first slide is custom-branded and designed by you (with our help!).
We help you generate leads: your Ruiz Report is the perfect monthly touch point for past, current, and future clients.
Educate
Training videos covering every slide and metric
Evaluate
Stay sharp and current with monthly quizzes
Promote
Promote your brand and business
Profit
Monthly touch point for lead gen & nurturing
Take control of your
client presentations.
Master your market, educate your clients, and grow your business with our fully automated, industry-leading and personally branded market reports. The data's updated monthly, but the layout remains the same so you can develop your client presentation with confidence.
Each report starts
with the Cover Sheet.
Immediately followed by your
personalized agent page.
The first slide of 3 "At A
Glance" slides: Activity.
The second slide of 3 "At A
Glance" slides: Velocity.
The third slide of 3 "At A
Glance" slides: Pricing.
Slide 4 is the most specifically relevant
slide, broken down by price ranges.
The Volume & Activity slide
visually explains market activity.
Contract to Cas$h helps inform Sellers
how long they have to find their new place!
Why our clients love us
The Ruiz Report goes beyond just handing you the latest market data; we offer comprehensive training to turn you into the Local Economist Of Choice.
Our service ensures you're armed with cutting-edge market insights, expert-level training, and a customized report branded specifically for your business delivered directly to your inbox every month.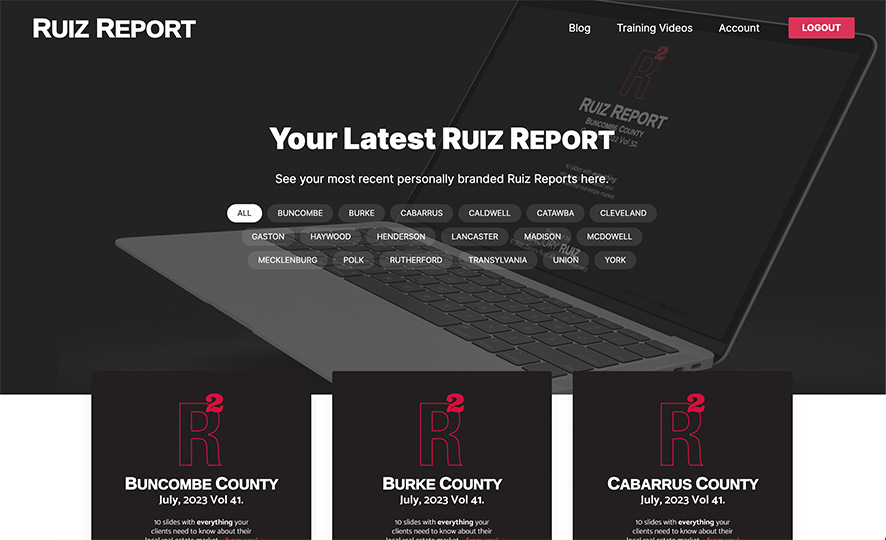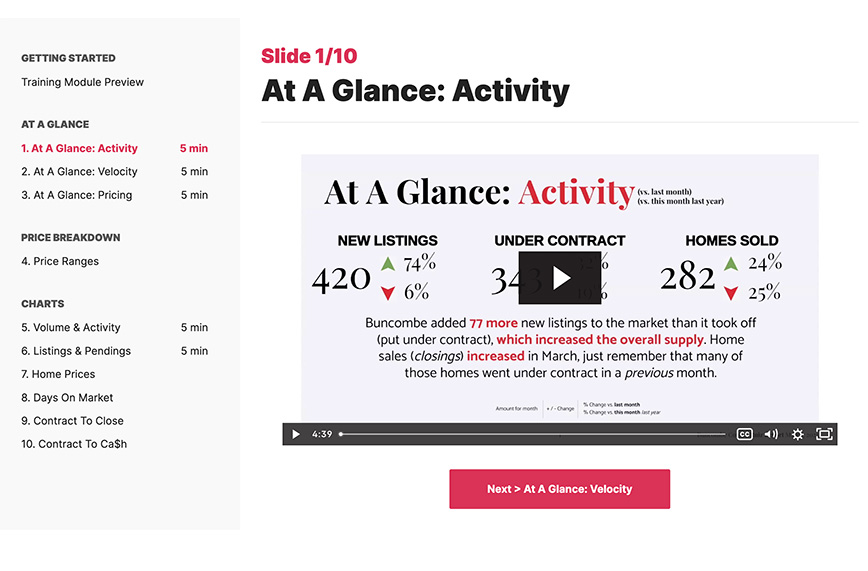 Expert Training
Each data point is carefully explained, including its relation to the rest of the report by our founder.
Brand Building
The Ruiz Report is a value-add in your clients' inbox from you with your branding as the first slide
Fully Automated
From report creation to hosting to our monthly social media graphic, we've got you covered
Expand Your Reach
Clients will naturally share your Ruiz Report with their fiends & family which will grow your sphere
Self Hosted
We host your reports so you don't have to, just copy paste the link into your emails
5 Star Service ★★★★★
We understand that the stakes are high so we aim for same-day response time to all requests
Drive
leads


to your website.

Clicking a price range sends clients directly to your website to see listings filtered by the report's county and the price range they select*

Requires an IDX website.

See Pricing
Find the right plan
for your needs
Features
Number of Counties
Training videos
Downloadable Resources
Monthly Quizzes
Personalized Report
Social Media Graphic
Hosted Report
Personalized Report Link
Weekly Group Zoom
Elite Mastermind Zoom
Monthly add-ons
Additional Ad-Hoc Report
1-1 Strategy Zoom
Pro
$
20
/mo
Build your brand and
sharpen your expertise.
Save $/yr
Start with Pro
Elite
$
50
/mo
Invest in your full potential
and elevate your business.
Save $/yr
Start with Elite
*Ruiz Report Branded Report
Personalized for sharing
Establish yourself as the local Economist Of Choice with your branded reports.
Numbers you can trust
Our reports are as accurate as the MLS's data allows - we get it from the source.
Master market complexity
Our 10-slides are all you need to stay on top of today's fast moving marketplace.
Frequently asked questions
I can't find my Ruiz Report invite!
It happens! Head over to our invitation lookup section and we'll get you squared away.
How can I add more counties?
You can add counties at any time from your dashboard. You can also change your counties from the same area.
How can I change my agent page?
You can add or update your Agent Page at any time from your dashboard.
How do I pay?
We partner with Stripe to manage payments. We accept credit cards, Apple Pay and Google Pay.
How often will I be charged?
We offer monthly, semi-annual, and annual payment options! You'll know before your card is charged.
When and how can I cancel my subscription?
You can cancel at any time and you'll be refunded according to our refund policy.